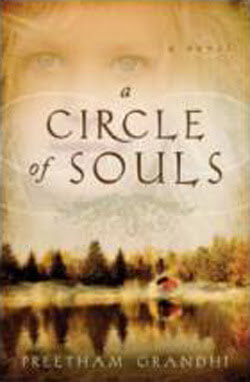 Title: Circle of Souls
Author: Preetham Grandi
Paperback: 352 pages
Publisher: Cedar Fort; 1 edition (June 15, 2009)
Language: English
ISBN-10: 1599552353
ISBN-13: 978-1599552354
I was lucky enough to get selected to review Dr. Preetham Grandhi's book through a book blogging hook up. I can honestly say that this is one of the best books I have ever read. It was a great psychological thriller with amazingly in depth characters, and a great plot line.
Most of the reason that this story is so good is because it is not about one main character but revolves around several main characters and how their lives intertwine. The book starts out with the murder of a little girl and then the murder investigation. Added into this tale is a famous FBI expert, the local police officer, and a great little girl names Naya who has been having visions about the little girl who was murdered. Add to this a few important doctors and it adds up to one great psychological thriller. I would love to talk more about the amazing story, but it would be giving away part of the tale
What I liked most about this book is that it really delved into the thoughts, emotions , and past doings of several of the characters. So not only is the story line progressing but you are learning more and more about the main characters. The other part of Circle that I loved was that I felt the book was leading me to think the killer was one person and it was totally not and it made the end of the book a huge surprise.
Again, Circle of Souls is one of the best books I have read in a very long time!!