During vacation I was lucky enough to get asked to come into Ted's Montana Grill and try some of their new items and see what they had to offer. First of all I was excited because....hello-no cooking for me!!!! So we decided to make a day of it and bring the kiddos for lunch during their vacation week to Ted's in Evergreen Walk in South Windsor.
First before I get to far I need to talk about the staff. We first were greeted by an amazing hostess who was super sweet to my kids and not only covered the formalities but also chatted with us. A great touch is when she noticed the kids in addition to getting our kid supplies-she also made sure to take the steak knives out of the utensil roll ups which is a huge plus! What I loved was I noticed her doing this with every customer not just me-the blogger writing the review. Next we got to meet Connor the Manager who was amazing. Not only was he super nice-and funny-he had so much to share with us about the company. You could tell that he really loved his restaurant and took great pride in this location but the new location on Front Street in Hartford. Our waiter was not only attentive but super knowledgeable about the menu and was also great to the kids. This was a recurring pattern I noticed-Ted's was great from the kids. I sort of had the impression that since it is in EvergreenWalk (which if you know it we can be honest it is an upscale outdoor shopping venue) that Ted's was not kid friendly-I couldn't have been more wrong.
This was not my first trip to Ted's but it was my first trip in a long time-Also it was the first time with both kids with me. When looking at the menu I was pleasantly surprised. Although my go to with them is always a burger they had a large selection of food that was not burgers. There were a variety of sandwiches and meals. There were tons of fresh lighter options if you wanted to lean towards a lighter lunch. When selecting our meals we got to nosh on their amazing pickles-that are cut by hand. I asked there is totally a dude who is in the back slicing up the pickles every day....there is totally some bad joke there!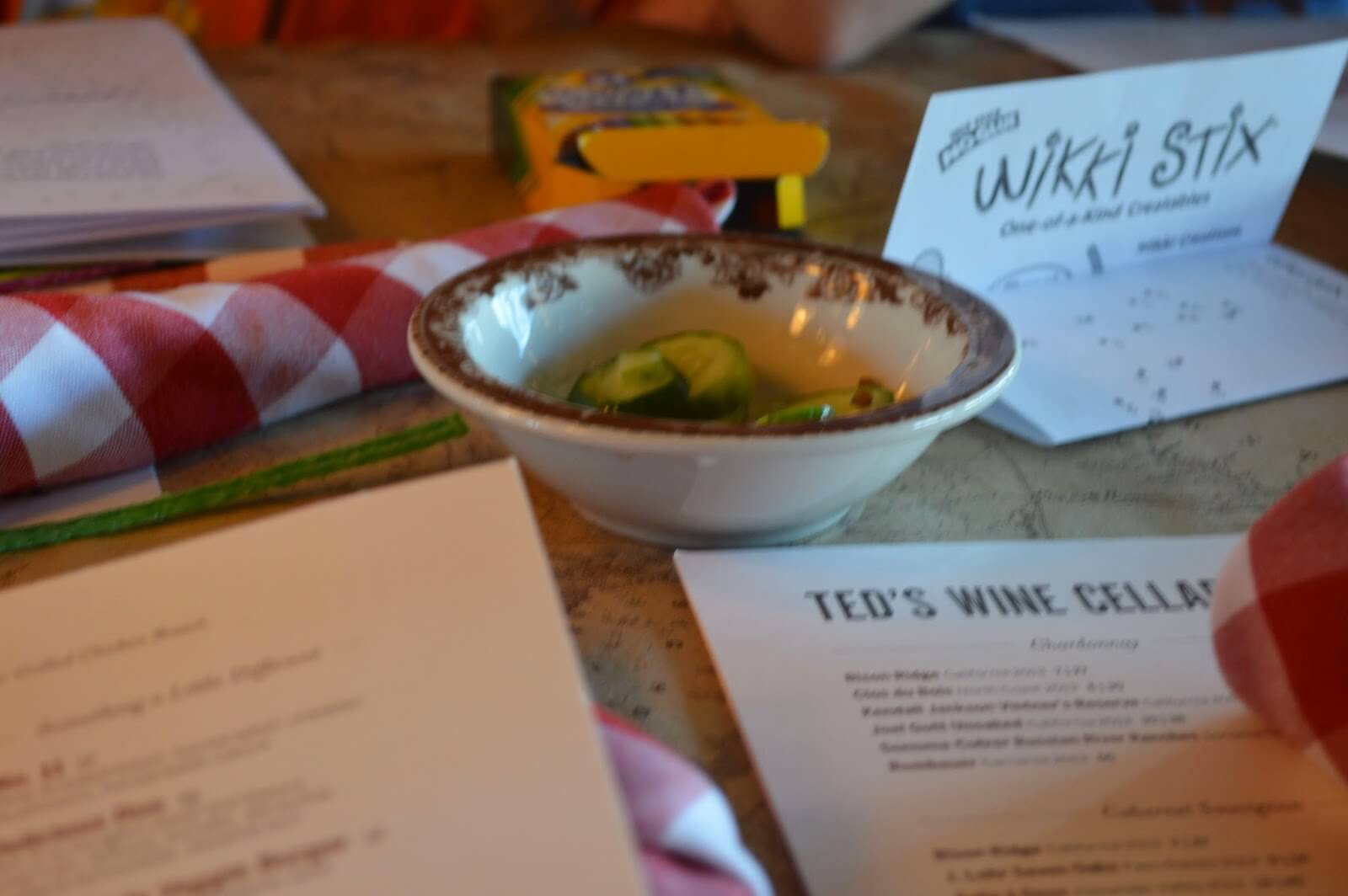 These almost empty pickle bowl that our great waiter refilled three times-We have a thing for pickles. Also note the wikki sticks-why cooler than crayons and more fun for the kids!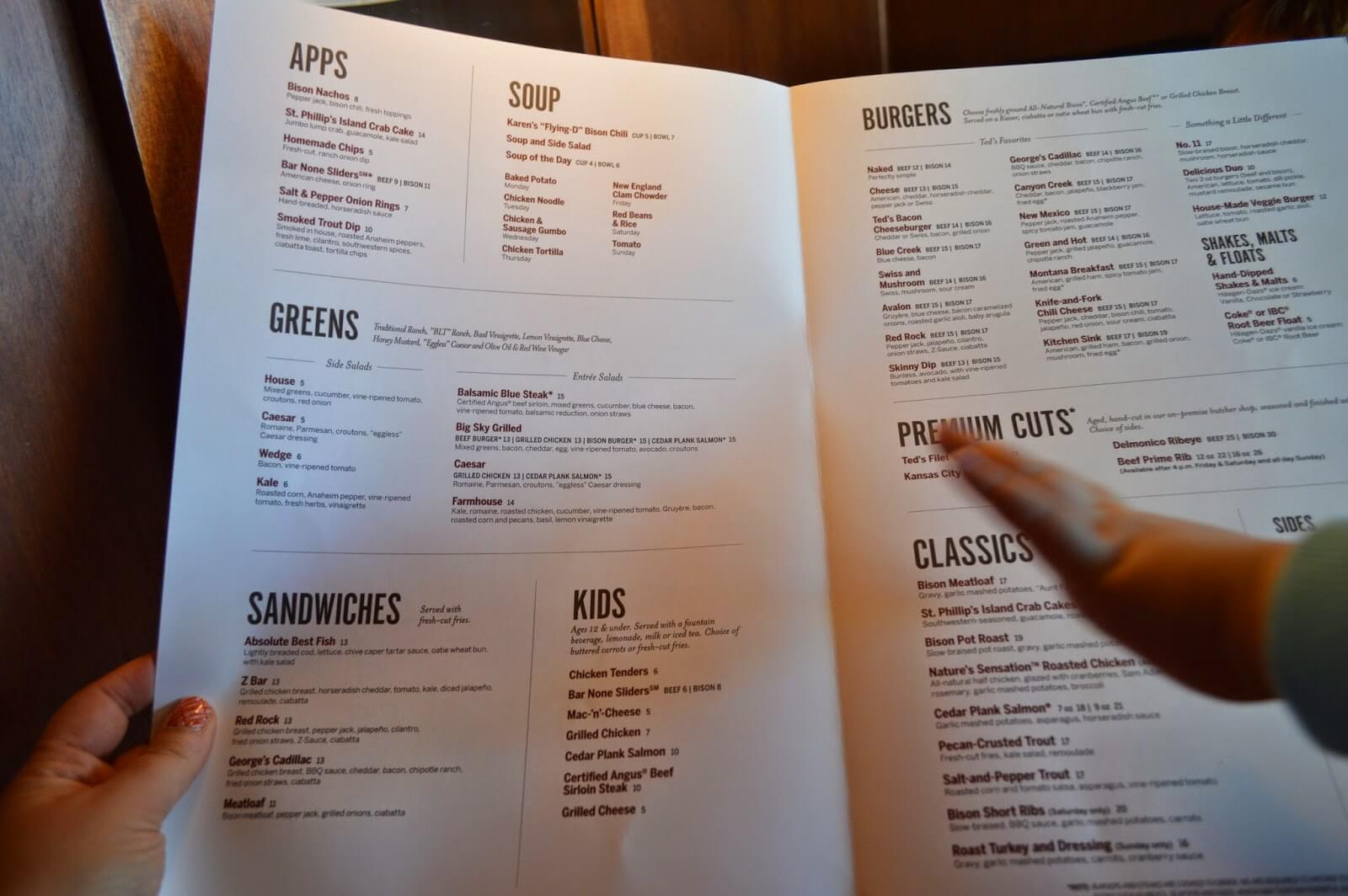 The menu-Smaller sandwiches, salads, and kid menu on the left-Burgers and larger meals to the right. Also the kids meals were extensive and even included fresh vegetable options and grilled chicken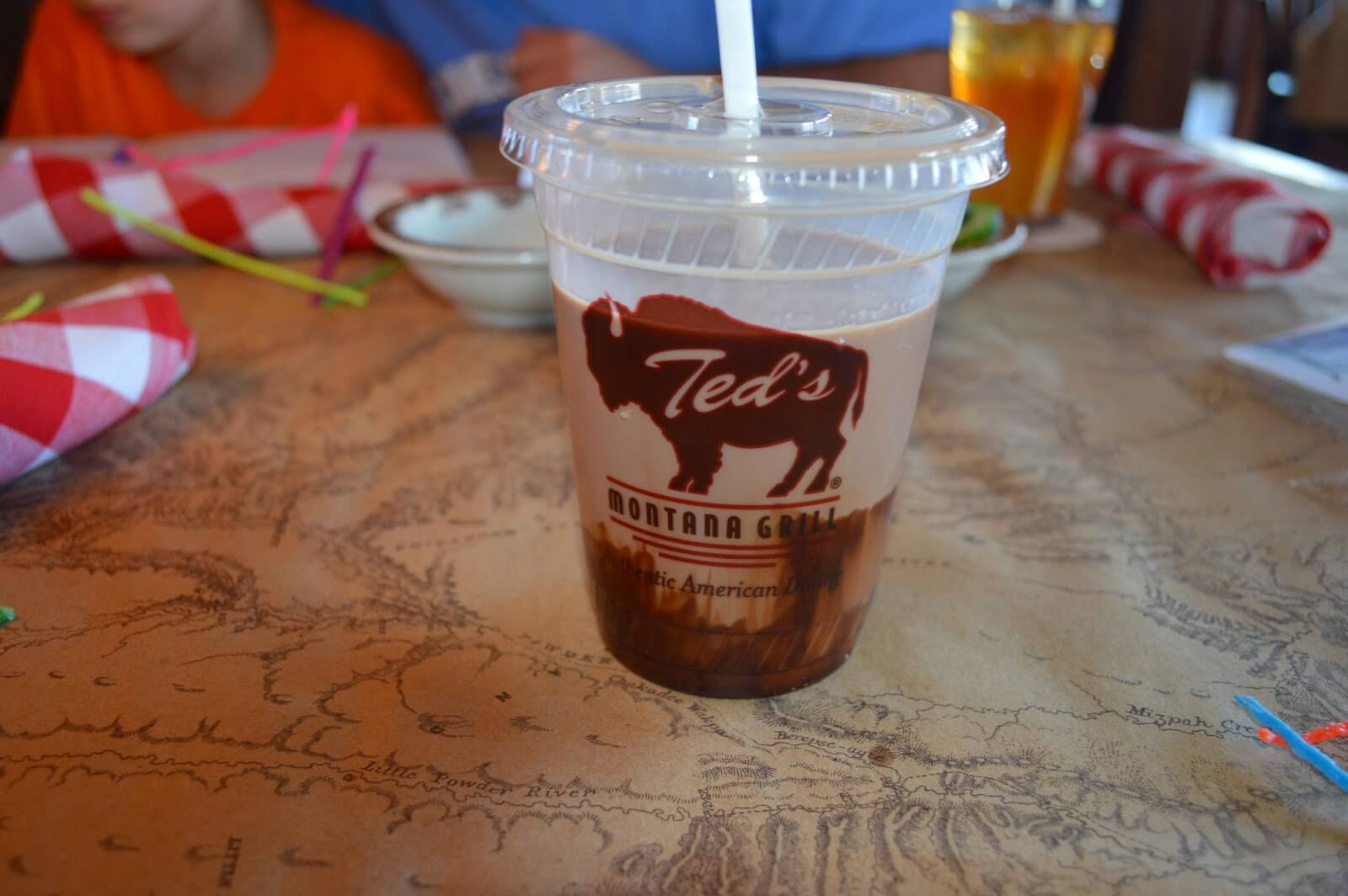 Josie had chocolate milk and Dylan had lemonade. No pre-made chocolate milk here-Fresh made it looked so good! Of course Ted's is known for their fresh squeezed lemonade. My father swore they had the best lemonade.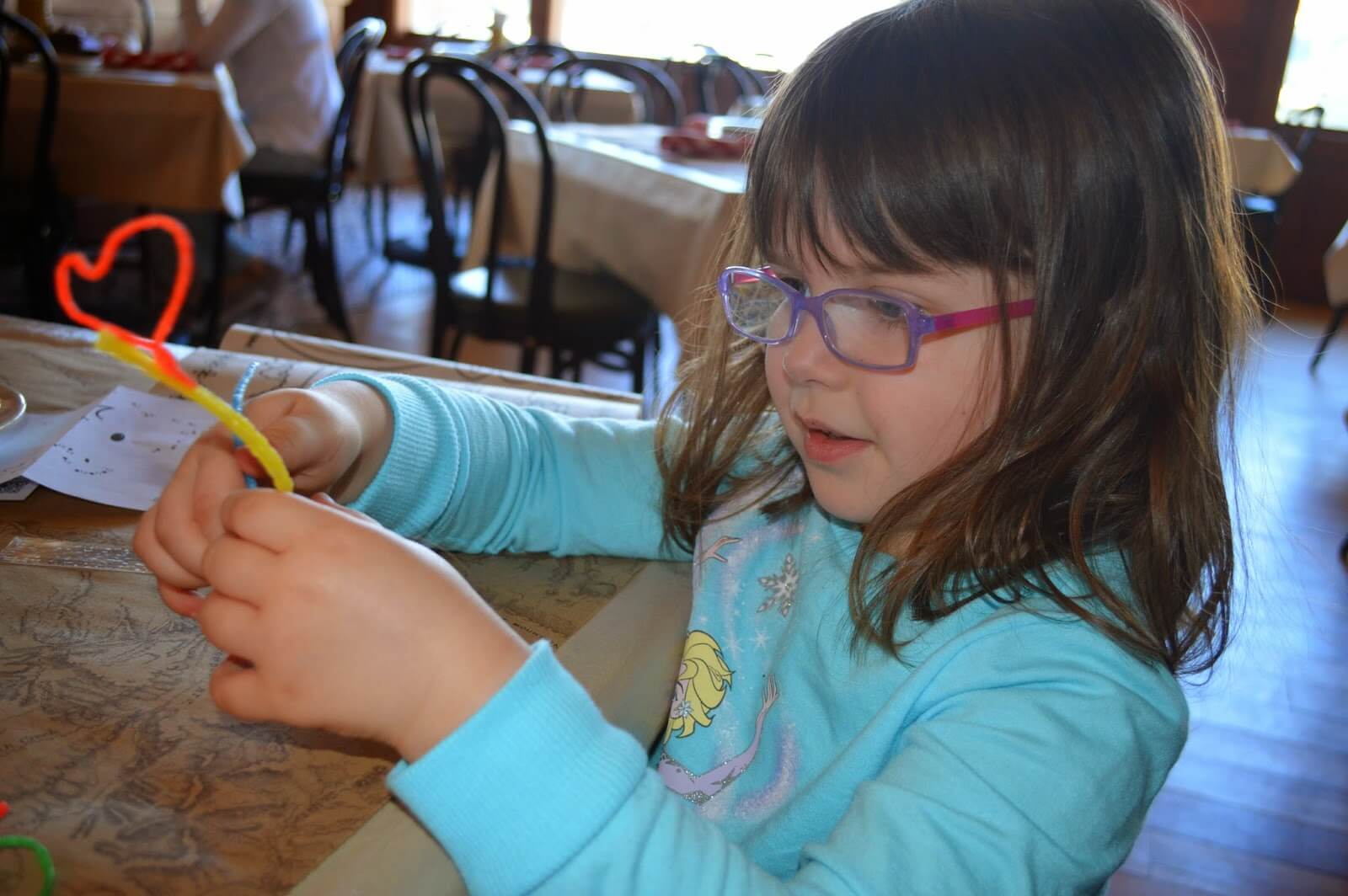 Josie playing with those wiki sticks I mentioned
So I don't know about the rest of my family but I had a hard time deciding what to get. There was an amazing roasted chicken that was calling my name-but I figured. Hey I am here to try new things...let me go outside my comfort zone. Boy was I glad I did. Below are the pictures of our meals!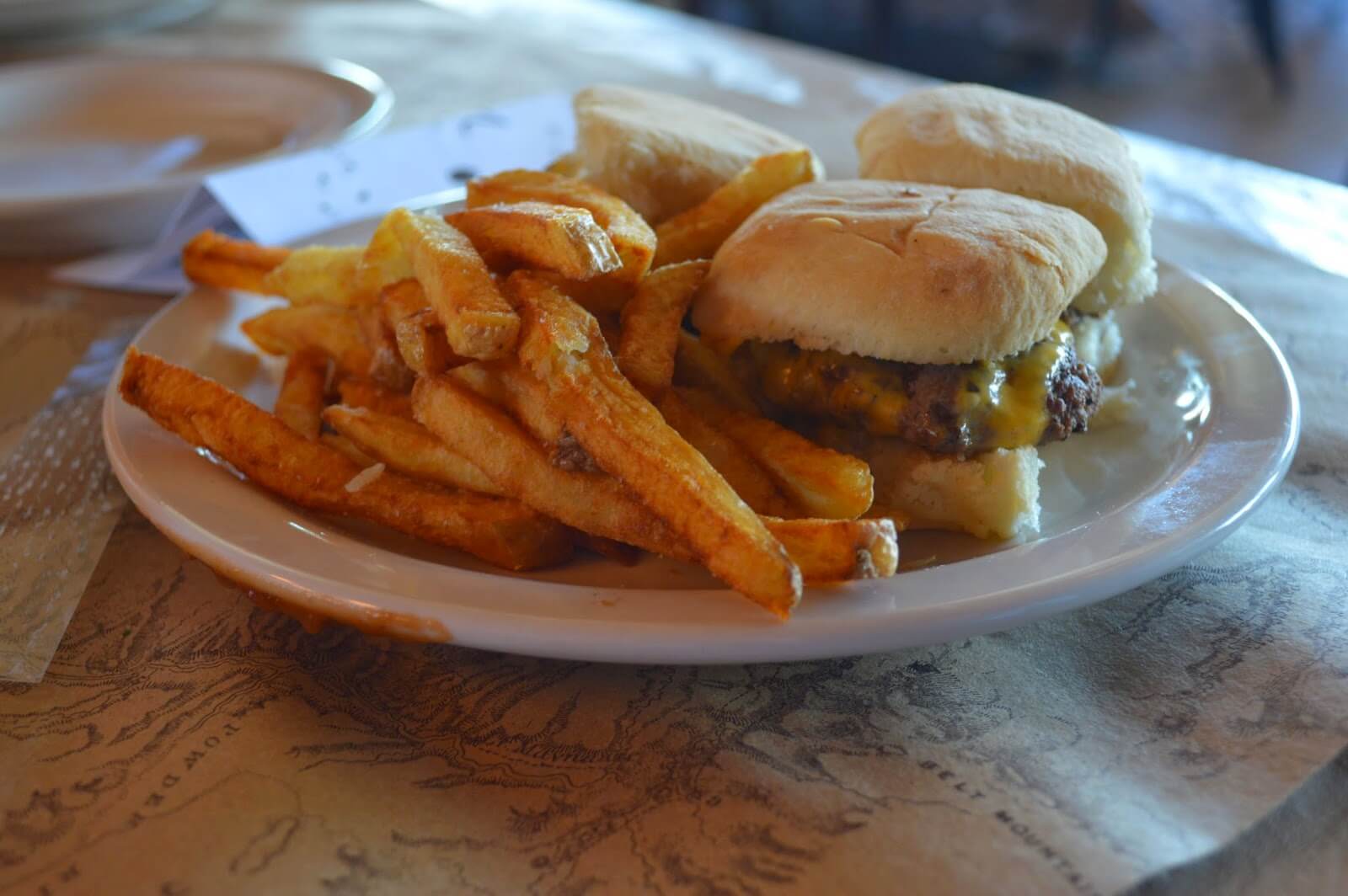 Miss M had the sliders. Which were three mini burgers that were AMAZING! No seriously they were so good I almost stole one. Too bad my girl put away all three and only gave me a bite.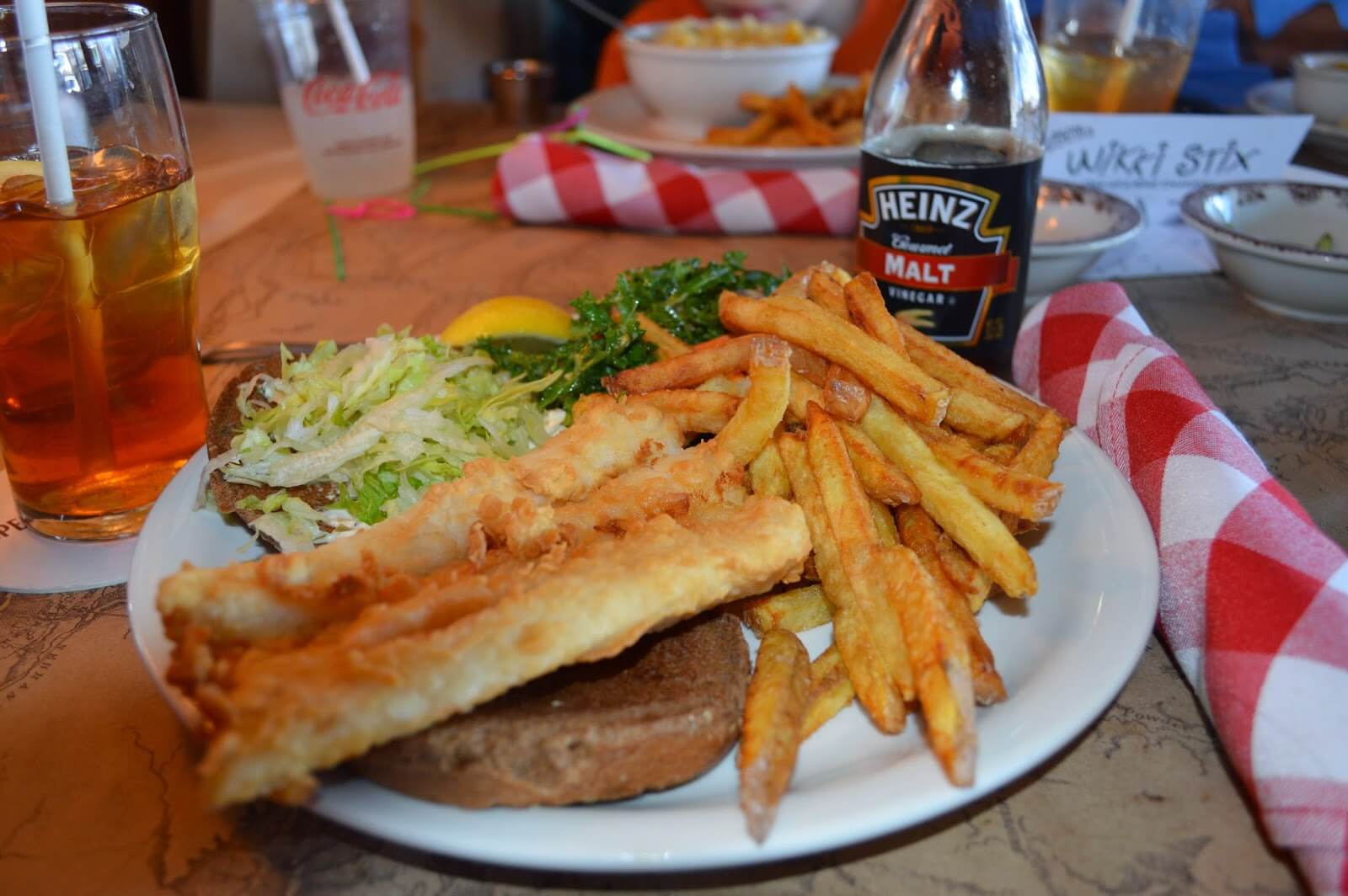 This is me outside of my comfort zone-A fish sandwich. The waiter said I would like it and that it was super fresh fish (from City Fish) and lightly battered. The batter was so light it almost tasted baked. With amazing fries to boot!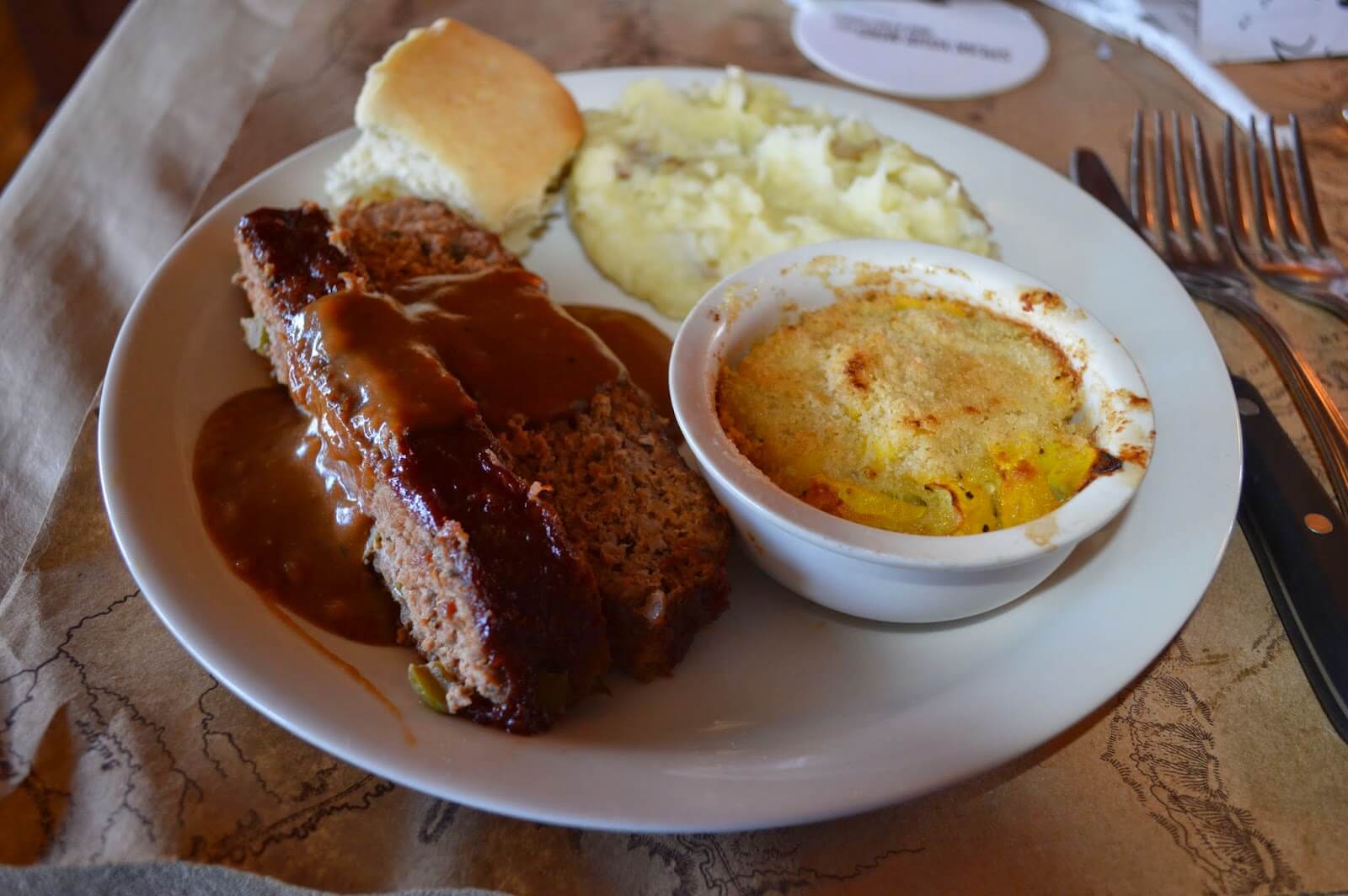 The hubby had a meatloaf meal. It came with mashed potatoes and a tasty baked squash casserole. He almost licked the plate clean it was all so good. I am not a huge meatloaf fan but the was really good flavored and that casserole could have been a meal on its own.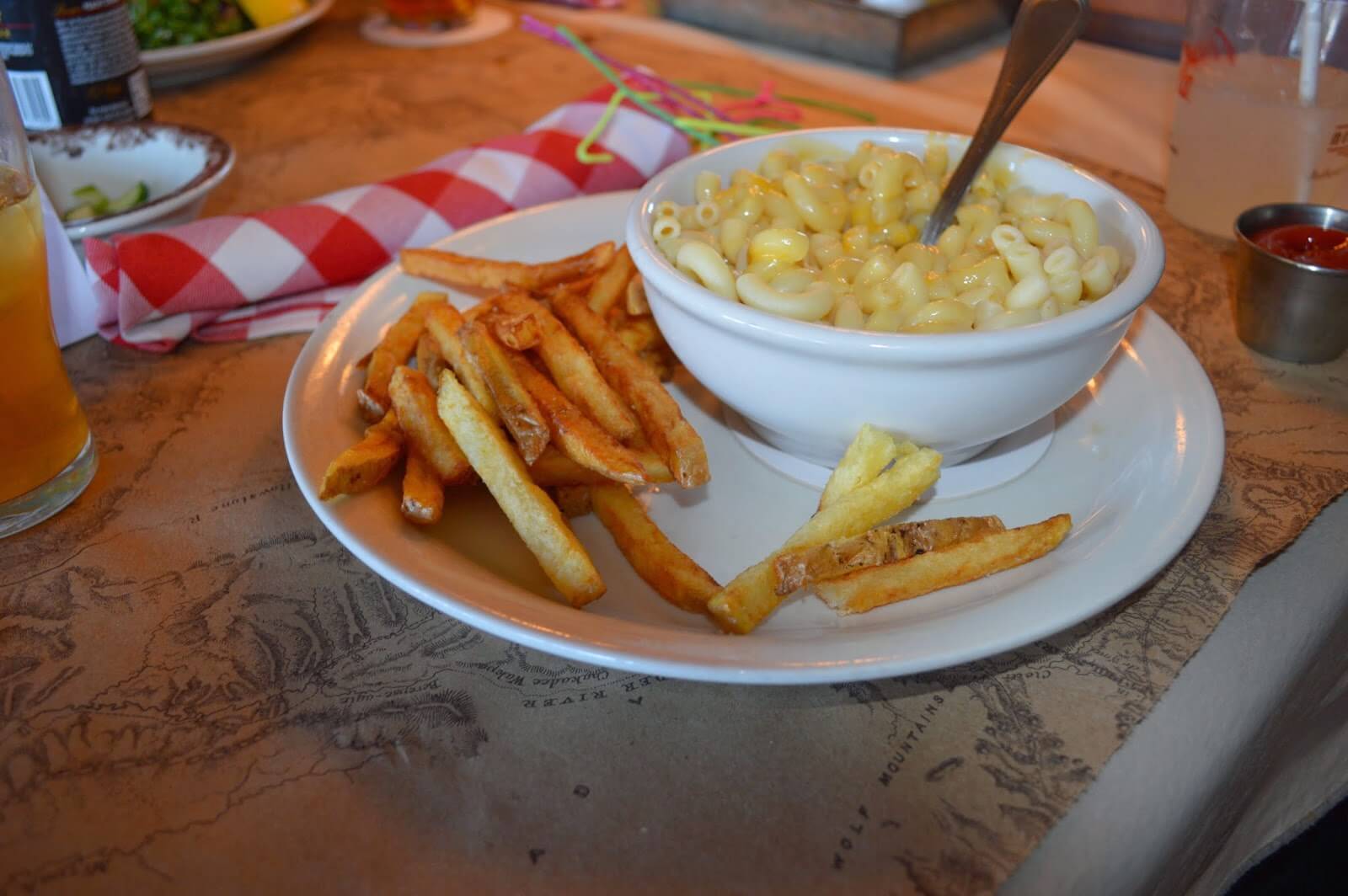 Dylan had homemade macaroni and cheese. With being lactose intolerant I did't have any but he ate a huge portion at lunch and finished it for dinner. This was no kraft in a box-homemade cheese sauce!


While we finishing our dinner Connor the manager came over to chat and while discussing how great my fish was we chatted about how Ted's prides itself on the freshness of the food. They do not get anything pre-made. Everything is made from scratch. The pickles and french fries are hand cut every day. The meats and fish are delivered daily. Desserts are baked from scratch. Connor also told us this is why they are able to cater so well to those with allergies and sensitivities. Thankfully I am only lactose intolerant but I know eating out is hard from those with food allergies. He said that all meals are fresh made so if you are allergic they can easily work with you to create a meal that you will enjoy and feel good safe eating.
I can't lie and say that my kids Mac and Cheese and fries is healthy-but there were healthy options. Also when everything is fresh you know you are getting good food!
Now lets talk price-because as a mom that is important. I wouldn't say that Ted's is cheap-but it certainly isn't expensive. Now if anyone has been to a certain ice cream peddling restaurant lately you all know unless you are going on Kids 1.99 day-that place can get pricey-and the food stinks. It is gross and pre-made and the only good thing is the icecream. Our meal would have been the same price as those "family friendly" places. If you got full meals, with drinks, and appetizers you would be more than a typically family meal out but then again my days of three hour meals with drinks and apps is long gone people!
Also, lets talk about this-A friend at work has raved about this dessert and I know why. Homemade strawberry shortcake!!!! So stinking good!!! Of course I could not eat the ice cream-but the homemade biscuit and strawberry sauce. This would be why I would go back-maybe with a lactaid in hand for next time!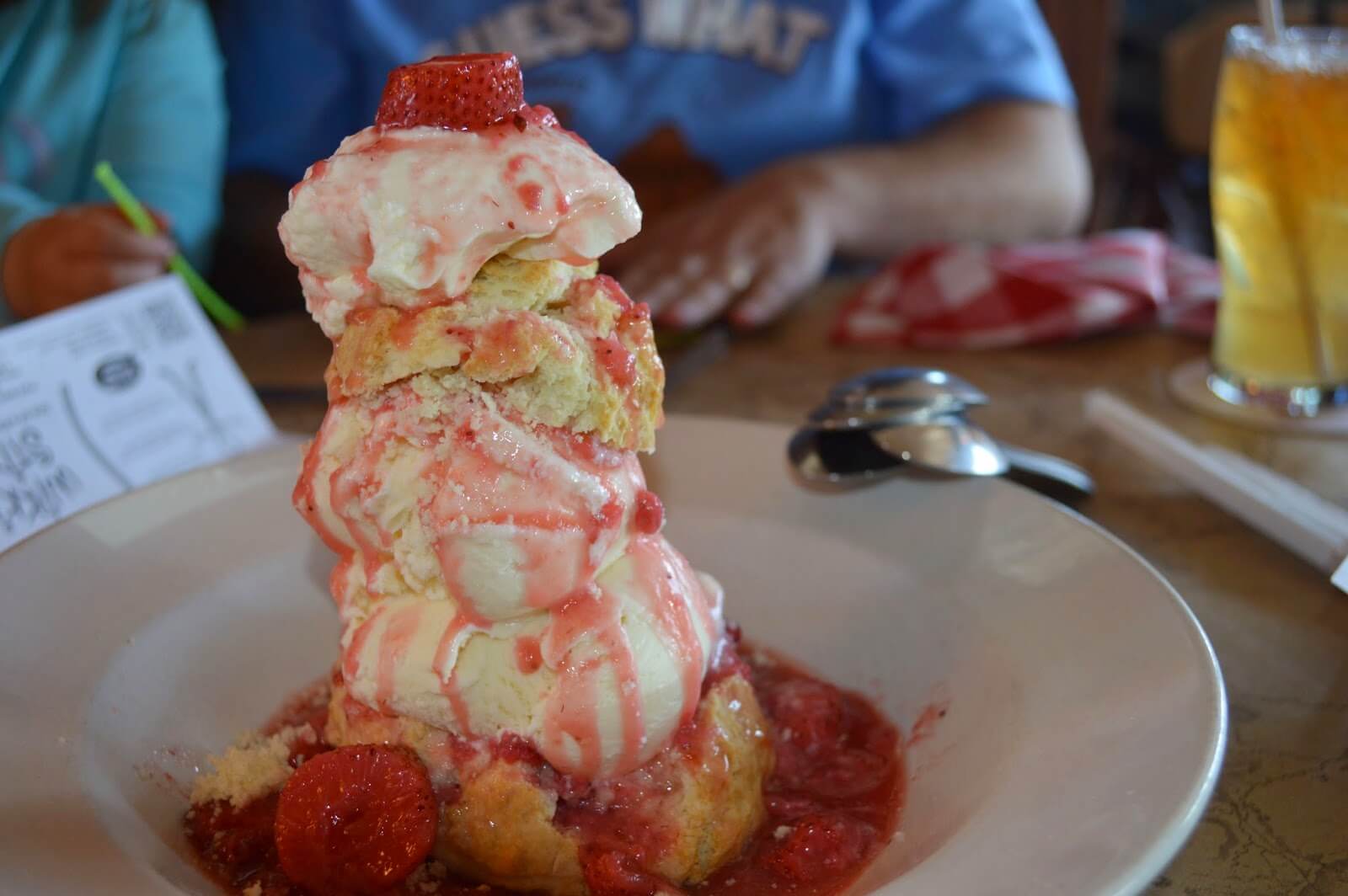 Lets talk about the glory that is this dessert!!!
Fun Facts we learned about Ted's
1. The paper straws that they use actually saved this American owned company from going out of business. How great is that! Even if you hate the straws (which I do) you sort of feel good using them. Not only are they environmentally friendly they are American owned!
2. They have a newer (its been open almost a year) Front Street Location in Hartford, CT. Although some of you may be putting on a frowny face about Hartford it is within walking distance from the Convention Center and Science Center Parking Garages. Also, lets be honest people. Anyone who has been to Evergreen Walk know that parking there is a nightmare too-its probably easier in Hartford then in South Windsor!
3. Speaking of Science Center-Did you know that Science Center Members get 15% off at the Front Street Location. Hello-Kid friendly, good food, allergy friendly restaurant with 15% off!! We are already so excited about that!
4. They are beginning a partnership with local farms to bring in more local produce. Since as I said above they pride themselves with the freshness of their ingredients-so why not have more local produce. This is just in the beginning stages and I am so happy to hear that!
5. Totally my most exciting of the list...well its tied with the 15% off from number 3. You can get your burgers pre-made from the restaurant and pay per burger. As I said I love the burgers now I can get them at home! You just call ahead and let them know how many and they will have them fresh for you the day you need them-AWESOMENESS!!
Overall I would highly recommend going to Ted's. It is a great option for families and I was so pleasantly surprised to find out just how fresh their food was and how kid friendly they are. In fact we already have plans to check out the front street location on our next visit to the science center!
Check out their website here http://www.tedsmontanagrill.com/
**Please note the Ted's gave us a free meal in exchange for my honest review of their restaurant***