So my girls over at
Mamavation
offered me an amazing opportunity...to review and then giveaway a ONE YEAR free subscription to
My FitU.
I am was so excited about this because I have been entering giveaways for a month or two trying to win myself a subscription to this amazing service. So lets take a minute and let this soak in...a one year free subscription for my blogger readers....SWEET!!!!!!!
Ok moving on now to what
My FitU
is! Basically it is a personal trainer who lives in your phone, Ipad, or computer. When you sign up you fill out some basic information including the usual age, weight, etc as well as fitness level and where you mostly work out. My Fit U then created a fitness AND (yes I said and) menu plan for you to follow to help you reach your fitness goal. This isn't just for someone trying to loose weight like me, it can be for people with various fitness goals. Once you are set up you can access your plans from online or the app feature. I am going to walk you through some of my plan (FYI these are screen shots from my phone app so should you do it on a computer it may look different).
When you log on for the day you are greeted with this....Love that it is helping you keep track of what is going on with your life.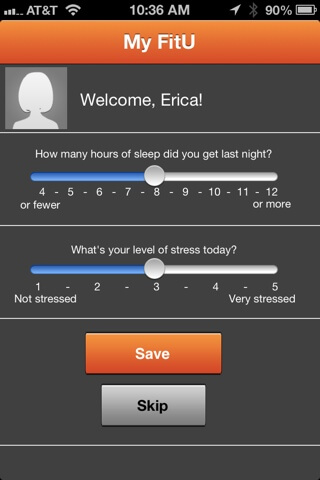 Once you have entered this you can go to your menu plan or your fitness plan. Below is what your fitness plan looks like once you have clicked on it.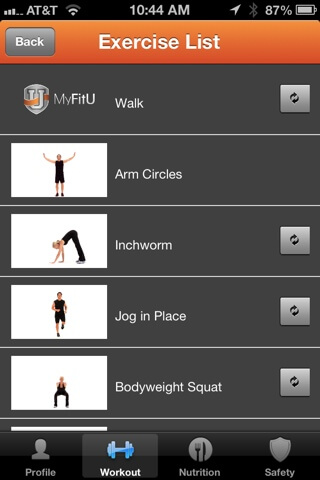 What I liked about the fitness plan is that not only does it have a video that goes long with it you see that button all the way to the right...that allows you to swap out an activity if it is too hard for you or if you do not have the equipment at home. For example I swapped out a kettle ball routine for the inch worm because I don't have a kettle ball at home.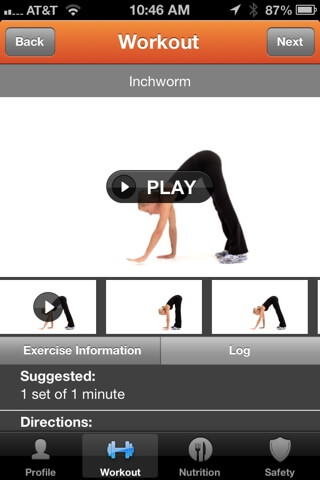 Above is a screen shop of the video. Each exercise has a description of how to do the exercise, how long/how many reps, and the video for you to watch. Basically everything a personal trainer would explain or keep track of for you if you were at the gym. Also, you can't see it from this screen shot but the app also allows you to choose which music from your iPhone that you will be listening too.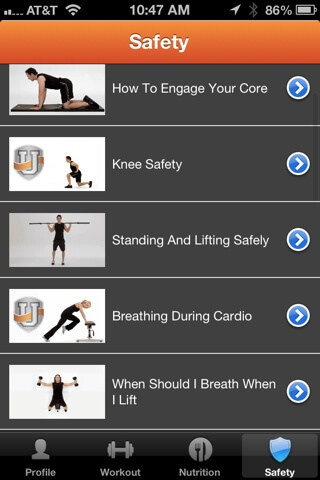 Now above is one of what I thought was the best features of this program...an idiots guide of how not to hurt yourself. I thought this was great especially for someone like me who is a beginner at strength training who might not know what good form should look like. I don't think you would be looking at these videos for everything but if you are trying out a new exercise and want to make sure that not only are you doing it right but that you aren't going to injury yourself.
Finally, the last really great part of this program was the meal plans. Now since I am doing weight watchers I wouldn't follow these plans exactly but there were many, many great recipes on the site and some really good menu plans. For someone who isn't doing weight watchers this is the perfect thing. Not only does it tell you how many calories to eat, it is giving nice balanced meals with portion sizes and best of all RECIPES!!!!!!! So what you have below are screen shots of the menu plan and a few recipes.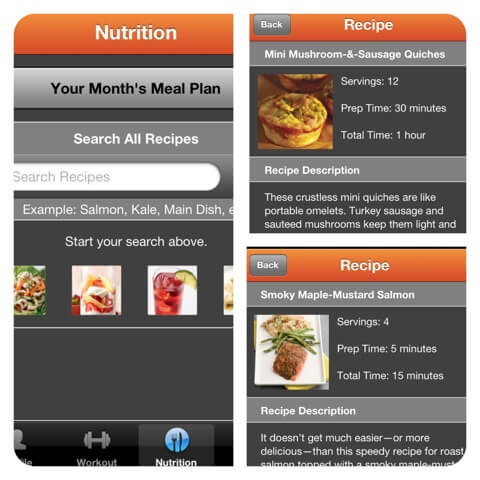 Ok so clearly you can tell that I love this program and I am sure lucky to be able to try it out....thanks again
Mamavation
and My FitU for that opportunity. Now if you are interested please enter my giveaway below! But if you can't wait another amazing feature of My FitU is that they offer
a free trial with no credit card required
. NO SERIOUSLY NO CREDIT CARD!!! Just your info and email, how sweet is that! Also, how can other places not figure out how to do this!
Anyways....come on and enter this is a great fitness opportunity! Also, if you don't win go sign up for the trial and consider the paid plan....it is nothing if you consider the cost of not only a diet plan and trainer would cost in real life. In fact, I feel the program is very inexpensive for what you get. So come on enter and head over to My FitU and sign up for your
free trial now!
a Rafflecopter giveaway