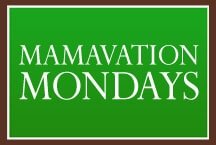 This week I have been doing the two week challenge which is part of the Mamavation Challenges and I can honestly say it has kicked my ass in a really good way. It has been hard, but as I stated in my last post, I am tougher. In hopes of getting in all the 10,000 steps in the challenge I bought another pedometer because my first one sucked and even stood in the kitchen before sitting down to blog and marched in place till I got to my goal before sitting down for the night! I can honestly say that I am really proud of myself and actually have gotten some of my confidence back about my ability to do this whole weight loss thing.
For this coming week my goal is to get in my 10,000 steps as well as add in a few days of Tae-bo this week. What are your goals for the week
Also don't forget to go check out the Mamavation Mom campaign. I have applied to be one of the moms and can say I am so happy to have applied because not only was it liberating to apply, I have forged a great support network with the other moms who applied.
So go check it out....go on go!
Have a great week!