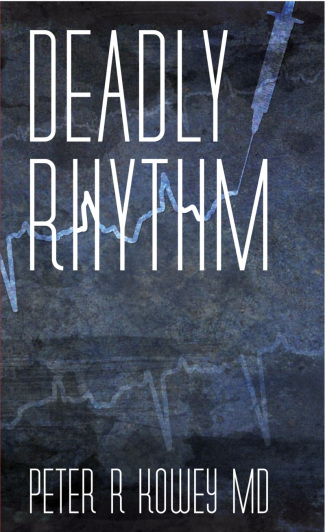 To start out with I am trying something new on my blog called Book Review Weekend. My hope is every weekend-at least over the summer-post a book review for my readers. I am also hoping to find others out there who are review books who can link up there posts underneath my main post.
So my weekend review was a book written by a cardiologist Peter R. Kowey. Dr. Kowey weaves a very interested story about his main character Dr. Sarkis and life after having to leave a prestigious practice due to huge scandal. This whole scandal can be found in Dr. Kowey's first book called Lethal Rhythm. In this novel the main character Dr. Sarkis is called in on a consult of a suspicious death of a World War II veteran. What he is discovers is more than a possible malpractice cause, but what might be a serial killer. The story contains lots of interesting medical facts and data as well as well written characters and plot. In fact at one point in the story I was suspecting one of the main characters of some shady business (won't go into too much detail because I don't want to spoil anything). For me I love when that happens because it means the author has done a good job of not making the story line too obvious. That being said I do have one small critique of the book and it is small-There was a tie into world war II and Nazi's and I wish this had been explored a bit more than it was in the story line. Then again the book wouldn't have been such a quick read if that was the case.
I would give the book 4 out of 5 stars and say it is a good summer beach read for those who like thrillers/mysteries.
If you are a book review and would like to link up please do so below. I would love to see what others out there are reading!!