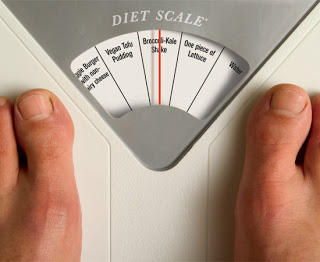 So one of the blogs that I love to read
"OK, just one more beer..."
posed this question this week. It really got me thinking if I didn't weigh myself constantly how would I know I was moving to live a healthy lifestyle. When I lost a lot of weight a few years ago (prior to babies) I really had an unhealthy relationship with my scale. I become obsessed with the what it said and I allowed it really dictate my emotional well being. This time around I have figured out that I need to work on loosing weight as an overall healthiness journey. This is why I am spending more time then I would like in therapy working out what I loving refer to as "my stuff". Yet, it is still hard not to discuss success and failure by a metal object. Over the last three weeks or so I haven't been able to track (or if I am being honest didn't want to) and instead of going to hte gym I have been taking our new dog for 40 minute walks. Although I haven't been eating unhealhty or not exercising I always look to the scale to see results. After three weeks I have gained one pound. I instantly see that as a failure rather than what it is...I period of time where I am not working as hard as I could be to get to my healthy goal. That is life though...things have been really stressful at work and although I am not binge eating something has to give....that something was tracking and constant vigilance of every morsel of food. In reality though that is going to be what life is like for me Good times and bad and I think I really need to reflect and start to think about what does healthy mean...is it a number on a scale or how I live my life everyday and with every choice. I wish I could say I could live my life right now without that metal object...but honestly right now that scale is still part of my journey...not the only part but one of.