So I have vowed to be honest and try and post more regularly to my blog despite what happens over at prior fat girl. Well for the past two weeks there have been no gym and no tracking. Despite that I still have maintained my weight (well I didn't weigh myself this week but last week I lost another pound). There have been several reasons for this
1. My new doggy got super sick. She got kennel cough and was wicked sick, thankfully she is doing better. She is great. On the days that I have time she and I go for a huge walk of about 30-35 minutes so although I am not hitting the gym I am still exercising which is good.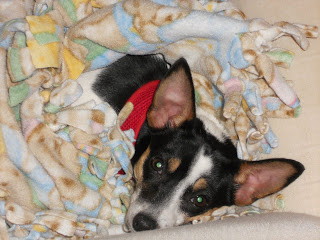 Olivia getting snug in her blanket
2. My baby J got sick...so sick that the day after Easter we had to take her to the Children's hospital for chest x-rays. SHe is doing much better but I had to miss two days of work and she needed a lot of attention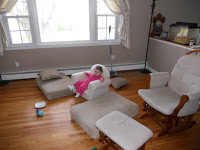 Baby J-Chilling and feeling a bit sick
Baby J working the camera pre sickness
3. My hubby is snoring. I mean a lot. Which means I am woken up on average 5 times a night. It stinks. I love him dearly but I need my sleep otherwise I am a disaster.
4. Things at work are crazy due to budget cuts and a lot of political issues there is a new rumor flying around about who is getting moved, who is getting hired, and who is fired. Now mind you none of this affects me in terms of my job but it does affect who my supervisor may or may not be and that stresses me out.
5. THE PROM........I am the junior class advisor for my school and our prom was this past Friday night. It was an amazing event and the kids looked amazing and had a great time. The problem is I thought planning my wedding was tough...well at least at my wedding there wasn't over 300 teenagers and the guests of honor did not include the school's principal and superintendent. It was crazy, I am lucky I have a great co-advisor who really made the job a heck of a lot easier.
Momma Hunt and three of her officers-Yes I got a prom dress too!
All five of these things put together meant something had to go and it was the gym and the tracking. My goal is now on Monday to start fresh...tracking and maybe just maybe a few trips to the gym this week.
Have a great start to the week everyone!!!