A few weeks ago I was offered a great opportunity to review a product from the great people at
Go in Style
. The offered me a stunning two tone scarf-and if any of you from real life are reading this you know I love a good scarf. When it came in I was instantly in love. Here is the image from the website.
http://www.goinstyle.com/p-1237-echo-design-two-tone-reversible-scarf-for-women.aspx
The raspberry color is even more beautiful in person, a nice bright pink/purple. The under lying color is a brown/darker cranberry. In fact that cranberry color is dark enough that you could wear it with black (I did the first time I wore it because I didn't realize it was actually brown-no one noticed by the way). Additionally, to double duty color this scarf can do double duty fashion and function. It is a nice thick weave, almost two scarfs sewn together to get that two tone look. It also has a thick fringe boarder. Even though it is is thick and wooly-it doesn't leave any fuzz on clothing which is a plus. The scarf also comes in a black/grey combo which I am sure would be lovely. Now the price is a bit higher then what I would pay for a scarf (currently on sale for 42.00) but it really is a nice thick versatile piece. I think this would make a nice gift as well for someone who is hard to shop for. Go check it out-there is tons of fun stuff on their site as well!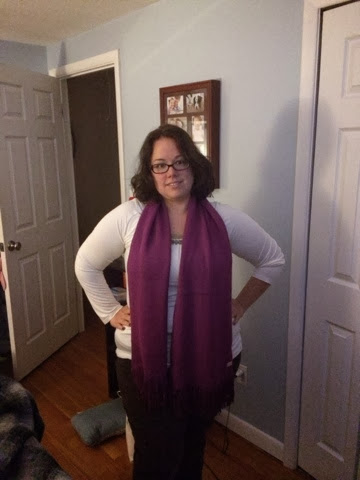 Here is a picture showing how wide the scarf is-it is somewhere between an normal scarf size and a pashmina
*Please note that I was given this scarf for free in exchange for possible product review.