As many of you know I have a fairly severe dairy issue these days and I can honestly say more than anything I miss eating, I miss my pinapple Chobani..More than all the icecream in the world what I crave is that darn yogurt. Well recently I was contacted by Chobani about an event that they held in my area called Chobani Champions. It was just another reason for me to love Chobani.
Earlier this week Chobani Champions and its partner KaBOOM!presented the Hartford Women's League Child Development Center with anImagination Playground in a Box! The gift of this playground is to encouragecreativity and play and is part of a larger engagement from Chobani Championsto help celebrate what it means to be a "Champion." This fall, allover the country, Chobani Champions has set up a variety of activitiesincluding a mobile bus tour, a mobile application, augmented reality, social mediaand more.
Why might you ask are they doing this.....well Chobani believes there is more to being a Champion than simplycrossing the finish line- Champions are caring, creative, imaginative andactive and deserve to be celebrated!
While I was not able to attend the event due to my hubbies surgery, it looked like a great time, one I am sad I couldn't attend with the kiddies. Here are a few pictures from the event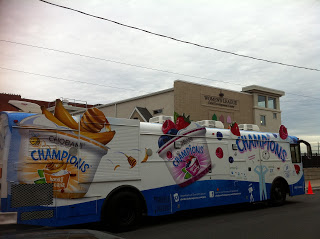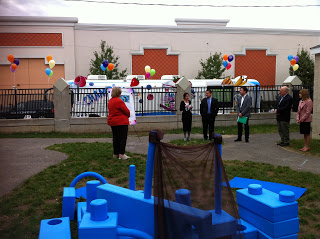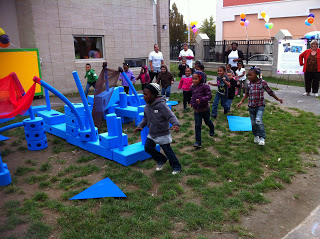 Are you a Chobani Champions fan? One of mylucky readers can enter to win a free case of the Chobani Champions yogurt in either of their deliciousflavors --Honey-Nana or Verry Berry. To enter this giveaway please enter your name and an email address. If you are a follower of my blog you please indicate that you are and you will be entered twice into the drawing. The winner will be chosen on Nov 4th.
Check out
www.chobanichampions.com
for more information on events, yogurt and cool activities for your Champions!
GOOD LUCK!!!!!!!!!!