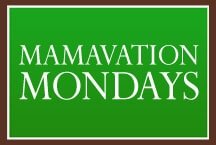 I was off the grid last Monday-it was vacation from school that means crazy times here at the house. I have been hanging sold weight wise for the last two weeks. Not great but still ok. Although I will say I was able to get a lot of great exercise in over the last two weeks. I got a few trips to the gym, plus a few tae-bo workouts.
What has been on my mind lately is the thought of applying to be one of the Mamavation Moms. I typically try to limit pictures of myself or often do not talk how much I weigh that sort goes in the category of never ever wanting to do. Yet, somehow I keep getting drawn back into the thought that this is maybe what I need. Some extra support and some extra pushing and guidance to help kick my booty. Is anyone else going to apply? I will let you all know if I do apply and the scariest part of all I have to submit a video-yikes! Anywho, I hope you all have a great week and my goals for this week include
1. Exercise three times
2. Record all my food
3. Post two blogs after today's post.