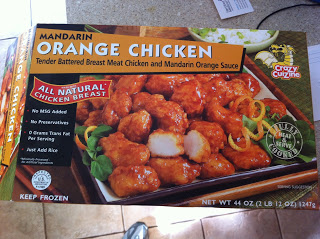 Someone out there must have known me because a few weeks ago I was offered coupons to try Crazy Cuizine's Orange Chicken. If anyone knows me they know I am a Chinese food freak. I will opt for that nine out of ten times when asked what I want to eat (the other one thing I would choose over Chinese would be dessert). So as soon as I got my coupon for a free box in the mail I went out hunting for them.
I was able to find them at my local BJ's and when I asked one of the workers if they carried the brand the women could not stop raving about all the different types especially the orange chicken.
So I got this glorious box home and figured I should flip this bad boy over and see what kind of damage this food was going to do....and honestly It was as horrific as I was expecting. Now mind you as good as it is you can't be eating this everyday otherwise....I see weight gain in your future. But is most likely not as bad as if you got the same orange chicken from your local take out place.
So this past weekend I was in a pinch for something for lunch and I had orange chicken on the brain. So I made half of the box up. Super easy, throw it in the oven cook away then nuke the sauce and toss. OMG did my house smell good. Plus they did something with the better to make is extra crispy when it was cooked, in a way that most frozen and breaded chicken isn't. It was a huge hit, in fact Papa H barley left me any!
I decided to put my over some salad rather than with rice (trying to be at least somewhat healthy) and it was a suggestion on the box. It was heaven. Saucy little chicken bites over baby greens. No dressing needed. Only problem I totally want to hit up the other half of that box in my freezer! I am saving them though because I think that they would make a great appetizer for an upcoming party. So if you have a chance and you see these little gems at the store, why not pick up a fun change of pace and get some chinese take out from your freezer case!