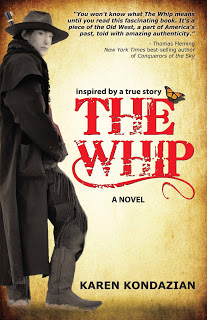 I have been a reading fool lately, mainly due to really good books. Over the last two weeks I was given the opportunity to review the historical fiction novel called "The Whip" by Karen Kondazian an award winning theatre actress. For this book being Kondazian's debut novel it was a great one.
The novel is based on the true story of Charlotte "Charley" Parkhurst. I agreed to review this book because I wanted to start reading more historical fiction and more non fiction. I honestly wondered what could an author write about a stage coach driver that I could actually be interested in. Well, it was fascinating. Not only did the book look into the early years of Charlotte and her years in an orphanage in Rhode Island and how she came to be a whip (stage coach driver). Not only did this book explore larger themes like societal roles of women in the 1800's but also the racial tensions, poor conditions of children, gender identity, and the wild west all rolled into one.
This was an well written story with lots of great details and well developed characters that sucked you into the story. For me the one thing that struck me the most was that this was a real story. Of course I know that is was historical fiction yet, to keep reflecting back on that the facts of Charley's life were real was what made this story so gripping.
Overall I would give this book four stars, the two reasons for it not being five stars is simply because I know that not everyone would really like this type of book and there were a few story lines and characters I would have like to be discusses more. Then again if those things were explored this book would not have been 289 pages it would have been 489.