My parents for the last oohhhhh 15 years have rented a house in update New York in a small town called Schroon Lake. We love it. It is one of those super small towns that has one main street and like six stores. It is perfect for little kids. We can walk everywhere...including the grocery store and the local Stewarts. For those not from NY-Stewart's in a gas station that oddly enough makes and sells the most amazing ice-cream. Not only does this cute little town have a great public beach, the house we rent has private access to the lake with a rocky beach-Not the best for swimming but great for water shoes and the kids playing. Another highlight of the town is they have a really nice coffee shop and several nice mom and pop restaurants that we love to go to. Plus, this lake is sandwiched in-between Lake George (a huge tourist trap but great for things to do), Lake Placid where the Olympics were held years ago, and Mount Washington. It is always a really nice time when we go. Every day we got up and went to breakfast at Shirley's a local restaurant where the owner makes all her baked goods from scratch. Including to my kids delight homemade doughnuts and to my delight homemade raisin cinnamon bread. That darn bread was so good I even asked her to make me a loaf to take home on my last day. It was damn good people, damn good. Then we would go back to the house, head the beach for a bit, then lunch, naps, and either out for a ride or two our beach (Wee one Two refers to it as the dirty beach) for them playing with the rocks or for Kayaking. My parents bought Kayak at the end of the summer last year and we get the kids all set up in life jackets and take them out on the huge lake. The only two issues with our visit this year was the heat and Wee One 1's bug bites. The house we rent is very old and only some of the windows open (it gets so old in the winter a lot of people seal the windows for winter) so no AC and half the windows not opening makes it hot....gross ass hot. Then the first night some nasty bug decided to eat my kid-I mean he chowed down. When we took him to the doctor he was having such a reaction that his whole legs and arms were swollen and we counted 22 bites...so sad. The picture below is after it started looking better with cream, allergy meds, and Benadryl. The hubs and I also got to sneak out to Lake Placid and stopped at a very beautiful watering hole. Hubs allowed me to our photo, our first photo as a couple happened to be in upstate NY when he vacationed with my family when we first started dating. Despite the heat, which it was bad, I had a great time and for some reason this place gives me a sense of calm and peace. It makes me emotional. It makes me feel at east and makes me be able to think. I will post on my revelation tomorrow. Below are a few pictures from vacation...sadly not to many of Wee One 1-because lets be honest if you have a five year old you know pictures are so not their thing!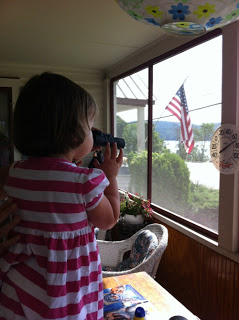 Wee One 2-Looking for boats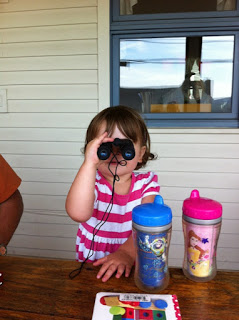 Hello Mommy I see you-Notice they are backwards so she can see someone very small
Looking out at the lake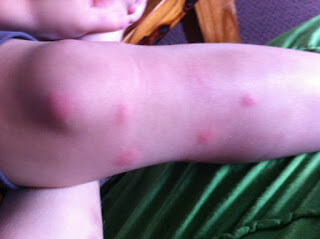 One of Wee One 1's legs...this is them looking good they were 5 times this size earlier in the day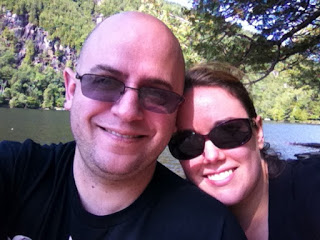 Papa Hunt agreeing again to take another photo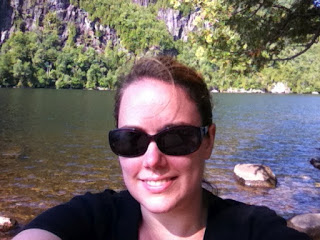 Self portrait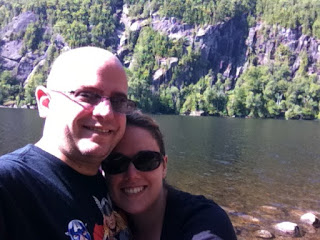 Me and Papa Hunt at Chapel Pond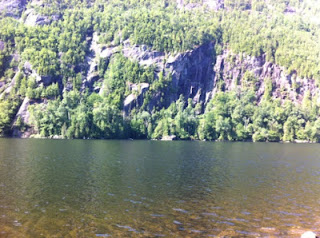 Chapel Pond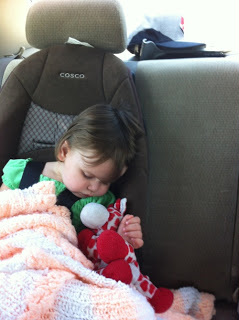 And she is spent!!!!