Sorry this post comes well after the last ones but I have had a sick baby and the holidays means one crazy Momma!
So the menus
Day Four-Stuffed French Toast, Turkey with Cranberry Quinoa, Salmon with Pepper Coulis
Day Five-Spinach and Ricotta Crepe, Roasted Turkey Breast with Fruit Chutney, and Beef with Broccoli
Day Six-Jungle Chicken Crepe, Turkey Chili, and Chicken stuffed with Brown and Wild Rices
Stuffed French Toast- Super yummy both Ryan and I liked these. I really loved the Berry compote to put on top, it sort of made up for the fact I had to scarp out the cream cheese filling. It even had a soy sausage that was excellent along with the sweet potato home fries. Yummy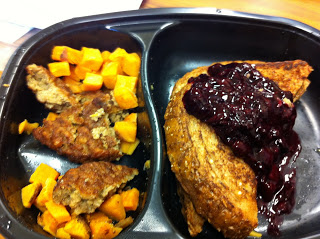 Turkey with Fruit Quinoa-YUMMMMY-First I recently discovered quinoa and love it! This was great with hunks of cranberries. The turkey was tender and moist which is almost unheard of in frozen meals. I loved it. Papa Hunt was a big second on these meals as well! Also lets for a minute discuss the love of the butternut squash side-So good! So Good!!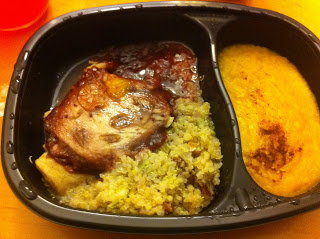 Salmon with Pepper Coulis- The salmon was really good I just hate olives and there were olives in the side dish. To me it tainted the entire side dish. Now again this is just me and my crazy hang up on olives. I thought the Salmon was great. Perfectly cooked great mild flavor. Minus the olives it would have been a winner
Spinach Ricotta Crepe- So I did not eat this because of the cheese so only Papa Hunt, his verdict if he liked spinach it would be great-He of course did not like it because of the spinach. Oh well can't win them all!
Roasted Turkey Breast- Papa Hunt thought this was just ok, I on the other hand thought this was one of the best meals we had. The Turkey was tender and the fruit chutney was so good, it was like a mini thanksgiving.
Beef with Broccoli- We both really enjoyed this traditional Chinese food dish. We both have been consistently surprised with the quality of the meat that comes in these meals. I thought it was great that despite the fact that it was frozen it still was tender and had a great sauce.
Jungle Chicken Crepe-Only Papa hunt ate this one and he was not a big fan. Nothing per say wrong with the meal just not really his taste for breakfast. A bit too spicy for him and he prefers more of a sweet breakfast.
Turkey Chili-Papa Hunt did not eat this because he does not like spicy stuff. I was really looking forward to this meal, and was really disappointed. My reasoning, it didn't have much flavor. It had great chunks of meat in it, nice beans, and a thick sauce to it. For some reason it just lacked a lot of flavor. I still have one left in the freezer and I think I will add some salsa to it to kick it up a notch
Chicken stuffed with Brown and Wild Rices-This was a nice meal, but not one of the better ones. We thought it lacked some of the other meals rich flavors and needed a little something. I did love the Ratatouille that was served on the side. This hit the spot.
Stay tuned for my over all review tomorrow (if I am lucky) and I apologize for a lack of pictures at the end. Two kids at meals are crazy add the Santa factor and sickness I am lucky I got to eat sitting down!