Since I have signed up for the Mamavation Mom's I decided that there is a lot of things that I needed to change and one of them was my priorities. Not that I am like sticking the kids off in a corner or something but I decided that somethings that I previous had dedicated time to I no longer had the time or to be honest the energy to do. I know that if I am chosen as a Mamavation Mom-there will be a ton of my time dedicated tot he eating and fitness program along with posting for the group. So some of the things that have changed is that I have put working out, meal planning, and tracking above some of the other things that I usually do. No more sitting for a long time on the couch with my lap top surfing the next or watching TV and knitting. Instead I am usually finishing a workout and showering later than normal. As referenced in the picture below I am not keeping up with my nails. For those who know me I am a fanatic about my nails. Something had to give and I wanted to be healthy more than I wanted my nails painted.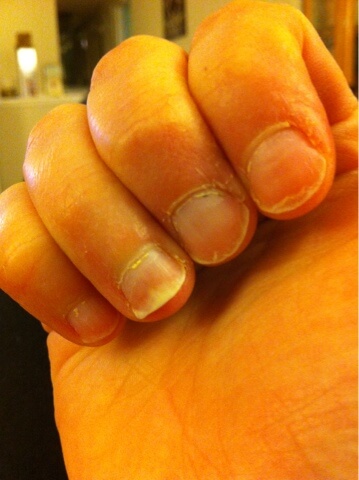 Yikes they are bad with no polish on them-Mainly because I bite them
Every day my goal is to get in 10,000 steps, in distance that is about five miles. To get that many steps in I often have to march around my house while doing chores or for the past two nights I have marched in place while watching Dr Phil! That is certainly a chance from my usual nights after the kids are in bed!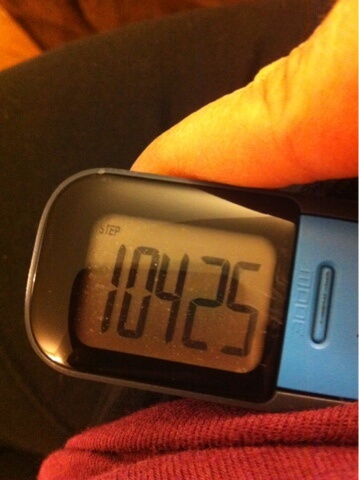 My steps as of 8:30pm
Then finally, the biggest change is the eating. I was asked to limit my grains to breakfast only. I am a carb girl. I have really changed what carbs I eat to brown rice and quinoa but to go no grains after breakfast is tough (oh yeah no sugar either, but its more the carbs I miss). So now I have to think more consciously about what to substitute into my usual meals to replace the grains and still be eating enough good food to keep me full.
Tonight's dinner of sausage and peppers, broccoli, and my favorite roasted beets
So as you can see I have been making a lot of changes around there...and you know what-A lot of these were very much needed!